Benefits of Fiber Optic Suspension Clamp
The fiber optic suspension clamp offers numerous benefits for fiber optic cable installations. Firstly, it provides secure and reliable support for fiber optic cables, ensuring that they remain in place and do not sag or sway. This reduces the risk of damage to the cables, which can result in signal loss or interruption. Secondly, it minimizes stress on the cables, which can extend their lifespan and improve their performance. Thirdly, it is easy to install and maintain, which reduces installation and maintenance costs.
Types of Fiber Optic Suspension Clamp
There are various types of fiber optic suspension clamp available on the market, including dead-end suspension clamps, anchor suspension clamps, and pole suspension clamps. Dead-end suspension clamps are used at the end of a cable run, where the cable is secured to an anchor point. Anchor suspension clamps are used to secure a cable to a pole or anchor point, while pole suspension clamps are used to support cables along a pole.
Choosing the right fiber optic suspension clamp depends on various factors, including the type of installation, the size and weight of the cable, and the environmental conditions. It is important to choose a clamp that is compatible with the cable and provides adequate support and protection.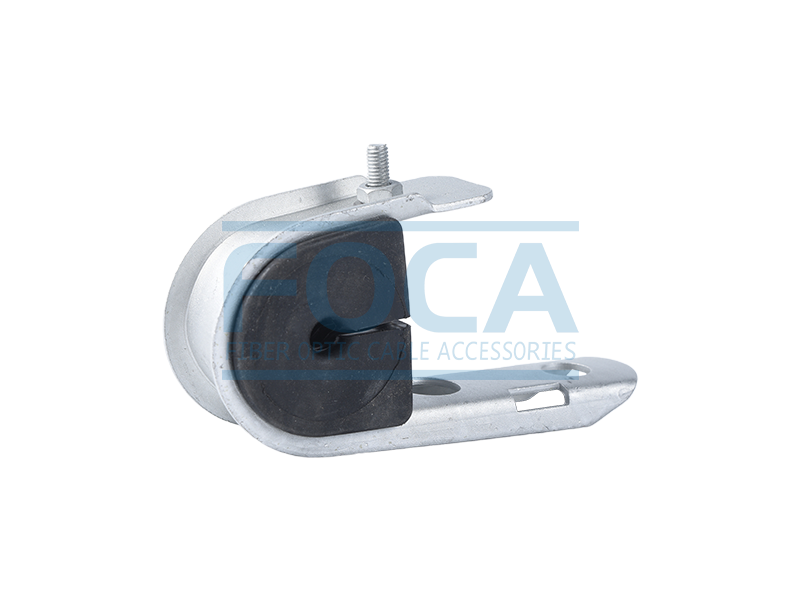 Product Description: Big type J suspension clamp, are designed to provide a suspension for 5 to 20mm aerial ADSS cables at intermediate poles on cable routes with angle < 20° on access networks, with high mechanical strength.
with neoprene insert for ADSS cables installed on big spans (200m max)