Fiber to the Home (FTTH) is a communication technology that uses fiber optic cables to deliver high-speed internet and other communication services directly to homes and businesses. One crucial component of FTTH installation is the cable clamp. Cable clamps are used to secure fiber optic cables to walls and poles, preventing them from sagging or becoming damaged. Here are some things to consider when selecting and installing FTTH cable clamps:
Choose the Right Type
There are various types of cable clamps available, each with its specific features and advantages. Some are designed for indoor use, while others are suitable for outdoor installation. Some cable clamps are designed for use with specific cable diameters or shapes. It's important to choose the right type of cable clamp for your specific installation needs to ensure optimal performance and durability.
Install the Clamp Correctly
Proper installation of the FTTH cable clamp is essential for ensuring that the cable is secure and protected. The clamp should be installed at a suitable height, depending on the location of the cable. It should also be installed in a way that does not damage the cable, such as over-tightening or crushing it. Follow the manufacturer's instructions carefully to ensure proper installation.
Check for Compatibility
Before selecting a cable clamp, it's essential to check its compatibility with the specific fiber optic cable you are using. Some cables require specific types of clamps or may not be compatible with certain types of clamps. Make sure to check the cable's specifications and the clamp's compatibility before making a purchase.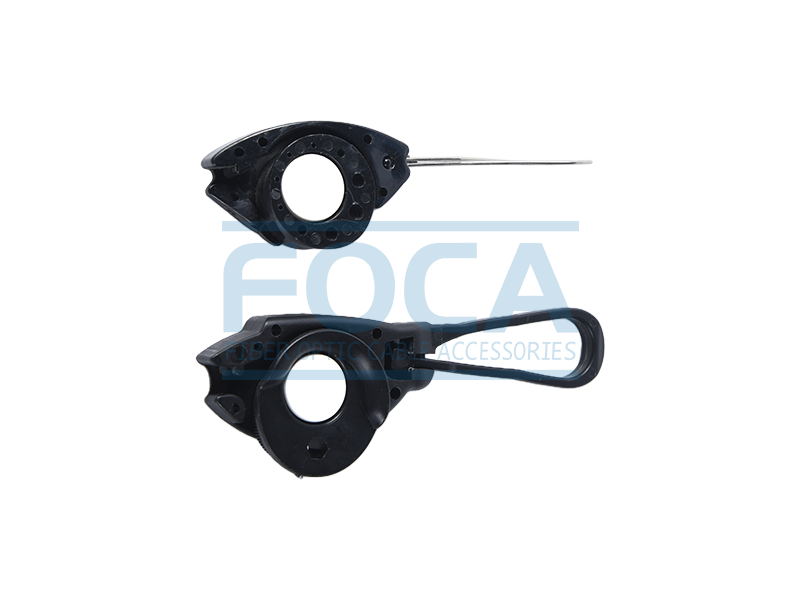 Product Description:
FISH clamp is designed for soft drop cable. to anchor on the wall or poles. Usually use for link into home lines.
Key Features:
Easy installation, no other tools needed.
Stainless steel and ABS material.
Long service life
Competitive tension clamp price
Fast produce
Dead end clamp with corrosion resistance
This ftth clamp FISH produces with ABS and stainless steel. This clamp no need tools when installation and don't damage cable.
Stainless steel won't rust, it guarantee long service life, and it can attach to the pole brackets and hooks. All the accessories for FTTH lines can be provided by FOCA.
All the FTTH clamps passed the lab test, such as temperature and humidity test, tensile strength test, aging test, corrosion resistance test etc.